[The GameDiscoverCo game discovery newsletter is written by 'how people find your game' expert & GameDiscoverCo founder Simon Carless, and is a regular look at how people discover and buy video games in the 2020s.]
As the year slowly draws to an end, things aren't slowing down for us at GameDiscoverCo Towers. The incredibly dynamic video game discovery marketplace continues to do lots of interesting things, and we're here to document them for you!
Incomes, sustainability, & 'success' in the PC/console space
At the end of last week, the below Tweet from stylish single-player FPS Industria co-creator David Jungnickel caught our eye – and a lot of other people's. So let's print it, and then unpack it and the responses to it: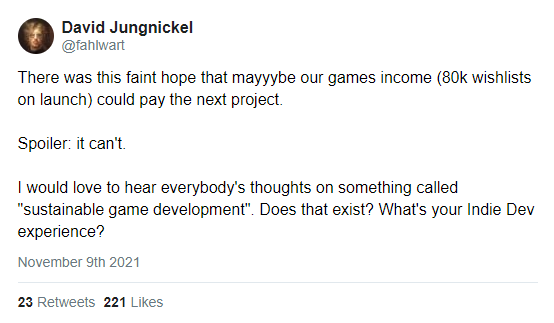 There's a few things going on here. Firstly, it's worth noting David's follow-up: "We could not be more happy and proud [of] INDUSTRIA. We had amazing support by our community, friends and family, and we are thankful for being able to have followed our dream for 5 years straight."
He adds, clarifying that this was mainly a spare-time project: "What I've meant with being able to pay for the next project: NOT working essentially for free and without income for years as we did it for INDUSTRIA. Pay people in advance. Work full-time. Don't burn out. Being financially independent."
At GameDiscoverCo, we're close to launching Steam post-release analysis charts for Plus members, comparing pre-release Hype to post-release performance for all recent Steam games, sorted by month.
Here's an extract from September 2021's chart, where Industria was ranked 48th best launch of the month, sorted by # of Steam reviews in first week. This ranking is from a total of 921 Steam games. So Industria is roughly in the top 5% of the games debuting in September:
And the game converted OK compared to the other games in similar chart placings, if you compare Hype to first week review #s. So it's not a massive outlier. It currently has 483 Mostly Positive reviews, which is really quite decent for today's market.
(We won't speculate on exact sales numbers, since shorter narrative games sometimes have lower reviews→sales ratios. But its gross is probably in the $100-$200k USD range so far – with its net being 58.5% of that, and publisher and other funder costs to potentially recoup.)
Anyhow, the game wasn't a failure. But it also hasn't provided the kind of income that would allow the dev to quit their dayjob and make their next game from scratch. And some replies tried to explain some ways the dev could make it work going forward:
No More Robots' Mike Rose makes a fair point from a minimalist perspective: "So multiple of the devs we've worked with are now sustainable after their various launches. And the big ones I try to drill into people is: Spend less time + money. Games made by a bunch of people in 5 years are never automatically better than games made by 2 people in 2 years."
Grey Alien Games' Jake Birkett is also helpful: "Sorry to hear that? Have you seen my talk about sustainable indie dev? It's not "do what I did" but some principles. You have some good replies. It's a tough market for sure. Keep scope/spend/time small imho. Get funding, do contract work etc."
I also dig SMG Studio's comment: "There's more options in the long tail via various deals/platforms. Only advice would be to leverage the engine/art/work already done to create another game [in] a fraction of the time." Also, that game will almost certainly be better design-wise, due to things you learned making the first one.
Also notable – Shawn Mills from Infamous Adventures is correct: "I guess when you work behind for the first game and want to pay in front for the next, you really are needing to get two games worth of revenue from the one game. That's not easy."
Finally, Stray Fawn Studios' ever-useful Philomena Schwab also noted the government funding, platform sales & deals as key revenue sources. And others noted that the game may yet see decent long-tail sales – and that contracting can help bridge $ gaps.
And to be honest, this whole conversation reminded me why indie game publishers are back with a vengeance recently. Love them or hate them, they certainly have the ability to advance you hundreds of thousands of dollars (or millions, sometimes!) They then take the upfront risk that allows you to finish your game without scrambling.
But then, you only get royalties when your game recoups. And if an ever smaller number of your publisher's games recoup, because they're counting on that 1-in-X 'megahit' across their entire portfolio, are you accidentally a 'work for hire' studio, even when working on your own games?
At the very least, you're locked into serial publisher contracts. And with the very high supply of great games out there right now, that can feel pretty risky. But what would help us all more is to get a better idea of how 'the average game' does nowadays. And that's something we want to keep trying to work out and expose to you. Fun times!
[We're GameDiscoverCo, a new agency based around one simple issue: how do players find, buy and enjoy your premium PC or console game? We run the newsletter you're reading, and provide consulting services for publishers, funds, and other smart game industry folks.]