How will the Virtual UX Conference work?
Meetings will take place using the videoconferencing service Zoom, collaboration tools (such as group document editing and whiteboarding tools), and social discussion platform Slack. You'll also be able to use Slack before, during, and after the event to participate in social events and network with other participants.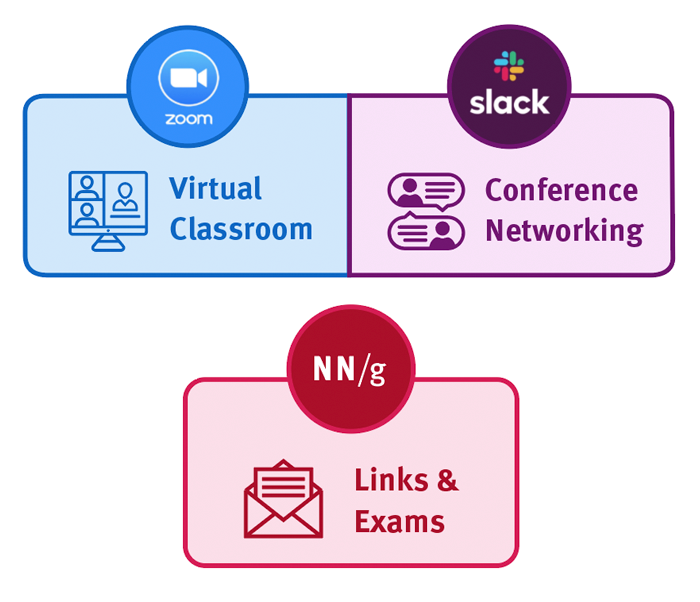 What do I need in order to attend the virtual event?
To participate in interactive live courses and exercises with other course participants, you will need:
stable high-speed internet connection, to stream audio and video to your computer

speakers, a microphone, and a webcam (strongly recommended)

a computer that does not have a strict firewall that blocks collaboration tools such as Google Docs

Zoom's meeting software (which is free to download and install), or Chrome browser
What is the start and end time for classes?
Here are the start and end times for courses at this event. Each course meets in 2 sessions, over 2 consecutive days. You must attend both days in order to be eligible to take the UX Certification exam.
| Time Zone | Course Session Starts | Course Session Ends |
| --- | --- | --- |
| San Francisco | 5 PM | 8:30 PM |
| New York | 8 PM | 11:30 PM |
| Singapore | 9 AM (next day) | 12:30 PM |
| Sydney | 12 PM (next day) | 3:30 PM |
Will the virtual courses be recorded?
No. These are live events that rely heavily on audience interaction and small-group activities in online breakout rooms. Thus, a recording would not have the same instructional value, thus we will not offer this.
Do I have to choose my sessions when I register?
Yes. This not only speeds registration but also ensures you'll get a virtual seat in the sessions you want.
Can I get UX Certified at this event?
Yes. Attend at least 5 courses and pass all 5 exams to earn an NN/g UX Certificate. You can take the 5 courses all at this event, or take some at this event and the rest at a future event.
How do exams work for UX Certification?
You must sign in to each class you attend. At the end of class on the second day, the online exam will be available for that class. You will be able to log in, pay exam fees (if they were not already paid when you registered), and take the exam. You can take your exams the same day, or any time within 35 calendar days after the conference.
Payment Frequently Asked Questions
Which payment methods are accepted?
You may pay your tuition and exam fees by
credit card, or bank transfer.
The following credit cards are accepted:
What discounts are available?
There is a built-in discount for each additional day you attend. You can also take advantage of our early bird registration discount (as indicated in the pricing matrix on the event agenda page).
If I register but then cannot attend, will I receive a refund?
If you must cancel after registering, your registration fee will be refunded less a 20% handling fee, provided that written notice of cancellation is received by December 17, 2021. After that, no refunds will be granted, but we will accept a substitute attendee if we receive a written note from the registered attendee stating his or her intention to transfer registration to a named individual. Email events-events@nngroup.com with cancellation, substitution, or refund requests. 
Is it safe for me to register using my credit card on the NN/g conference site?
Absolutely. Our website uses Secure Sockets Layer (SSL) technology to encrypt your personal information when you place your order. This means that your order cannot be read as it travels over the Internet, so your name, address, and credit card information are secure. 
I get an error when I try to register, can you help me?
If you receive an error message when you try to register, restarting your browser may resolve the issue. You can also contact us at events@nngroup.com or +1(415) 685-4230 and we will be happy to assist you. 
The Terms and Conditions for the UX Conference and UX Certification Program provide more detailed information about policies, privacy, and the Code of Conduct for training participants. 
More questions?
Please contact us at events@nngroup.com or +1(415) 685-4230