Keysight Technologies has over 13,900 employees in 31 countries. Its new intranet, Keysight Pulse, is the center of the company's digital workplace and one of the 10 winners of our 2021 Intranet Design Annual award.
Encouraging Employee Feedback, Content, and Questions
When the corporate-communications team at Keysight Technologies redesigned the intranet, one of the main goals was to create a strong sense of community among employees across all company locations. To support this vision for engagement, Pulse offers 9 ways for employees to connect and share with each other on the intranet:
1. Commenting on news articles and executive updates: Commenting features appear at the bottom of news articles and videos and have fostered a sense of comradery and liveliness on the intranet. Employees can react with a thumbs-up on individual comments or reply to another employee's comment. To monitor participation, Keysight tracks which articles and content types receive the most comments.
Early in the COVID-19 pandemic, Keysight's CEO recorded a video update with his new dog; the video garnered over 100 employee comments. Because of the high engagement levels, several other executives created similar video updates.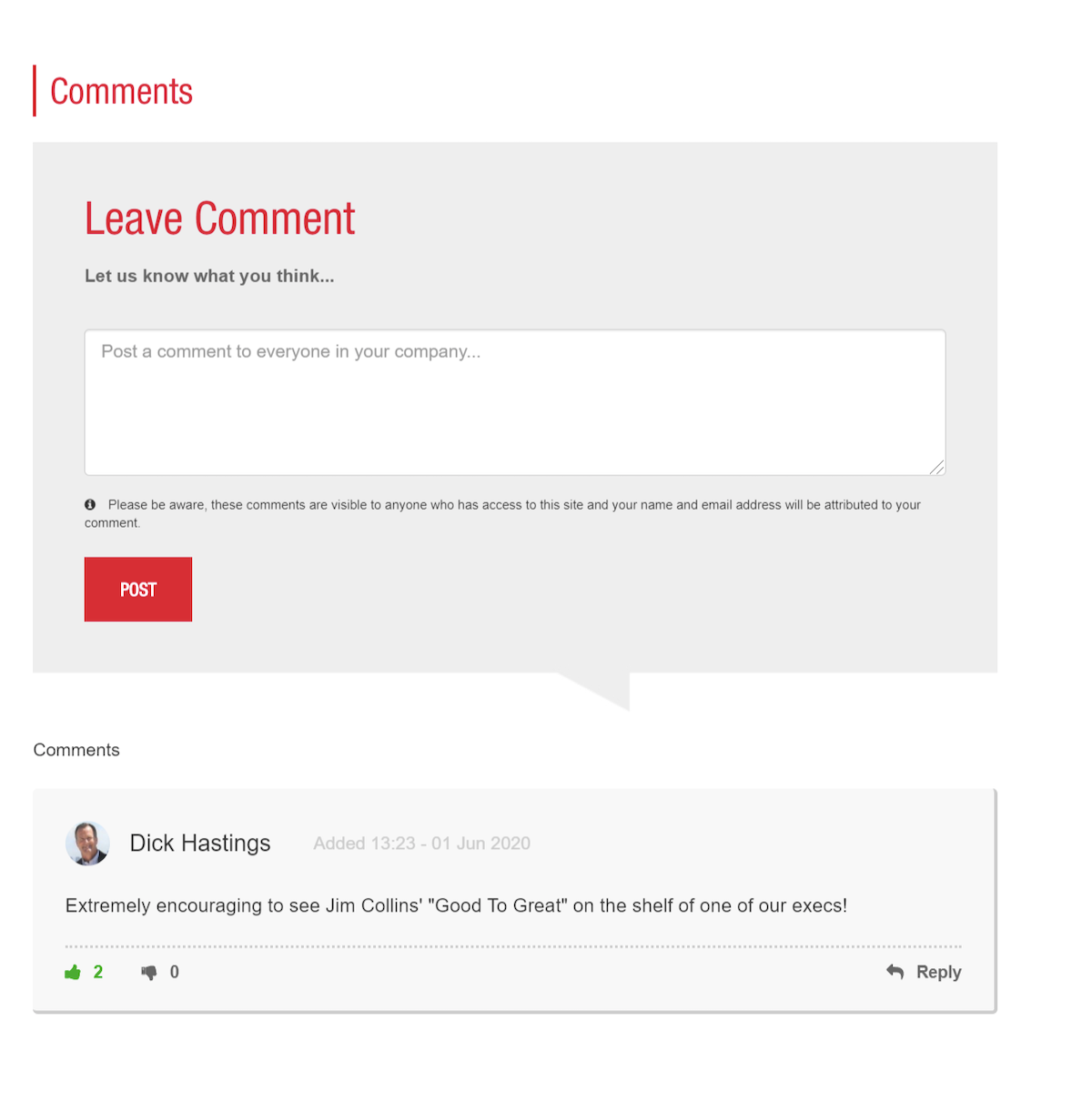 2. Employee video sharing:  Employees are also encouraged to share their own videos. During COVID-19, teams around the world posted videos with employees singing songs, cooking together, and sharing holiday wishes. These employee-made videos were Keysight's most popular content type in 2020 and spread positivity during a challenging time.
3. Monthly photo contests: Key Sightings is a monthly, employee-led photo contest, where people submit photos and stories to the intranet. A global panel of employees judge the submissions for creativity, composition, focus, lighting, and general artistic quality. They pick 1 winner and 9 honorable mentions each month; employees can also comment on their favorites. The photo contests are a huge engagement and monthly interest-driver.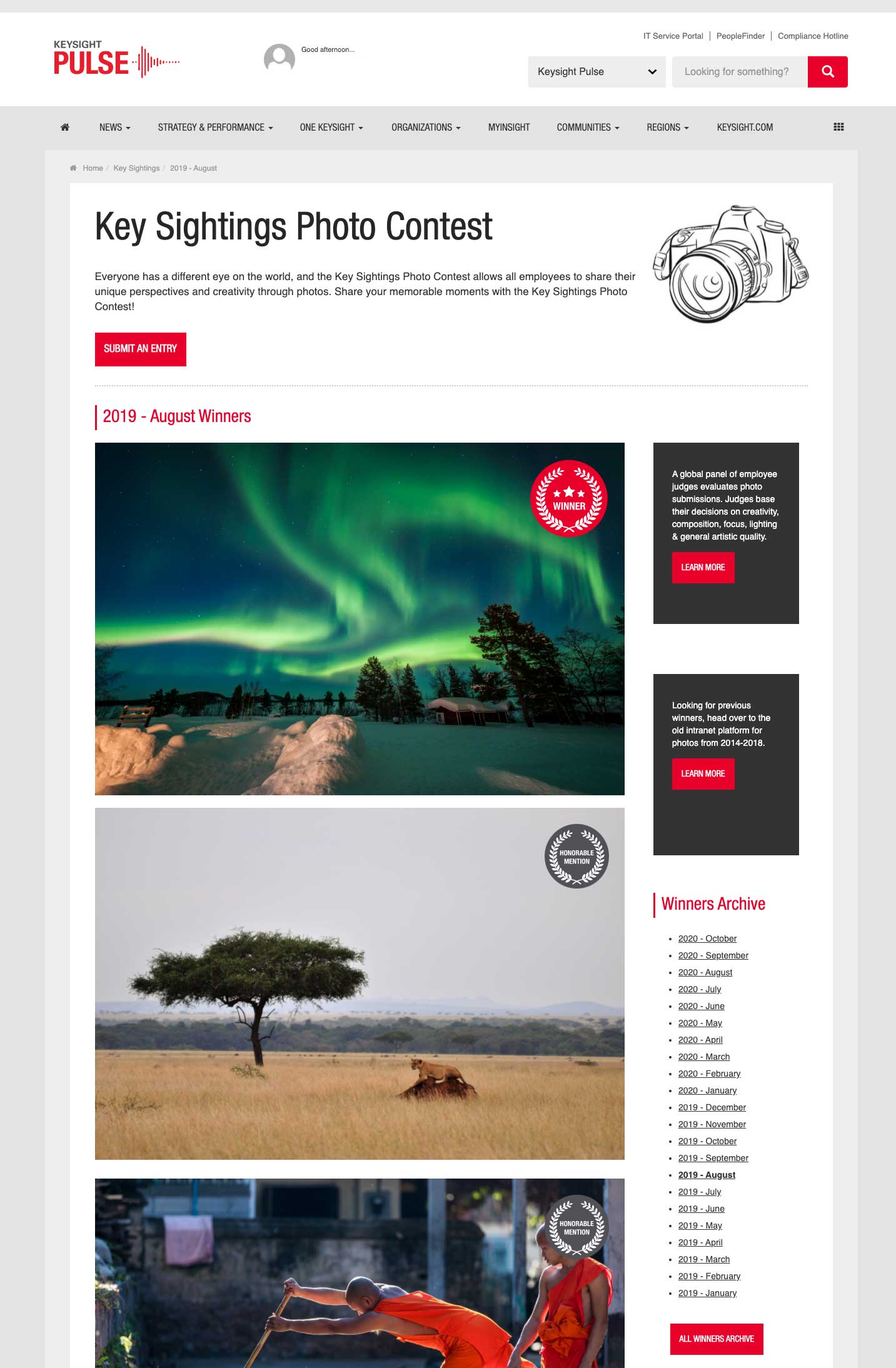 4. Continuous-improvement ideas: Keysight's continuous-improvement program, MyInsight, offers employees a forum to submit ideas to improve the organization. Other employees can also weigh in or expand upon these ideas. This area brings teams together to work on common goals and solutions to existing problems. Ideas are tagged with attributes such as new, planned for implementation, or already implemented. Each idea includes a clock icon to indicate whether it's still an active idea that's open for other employee input.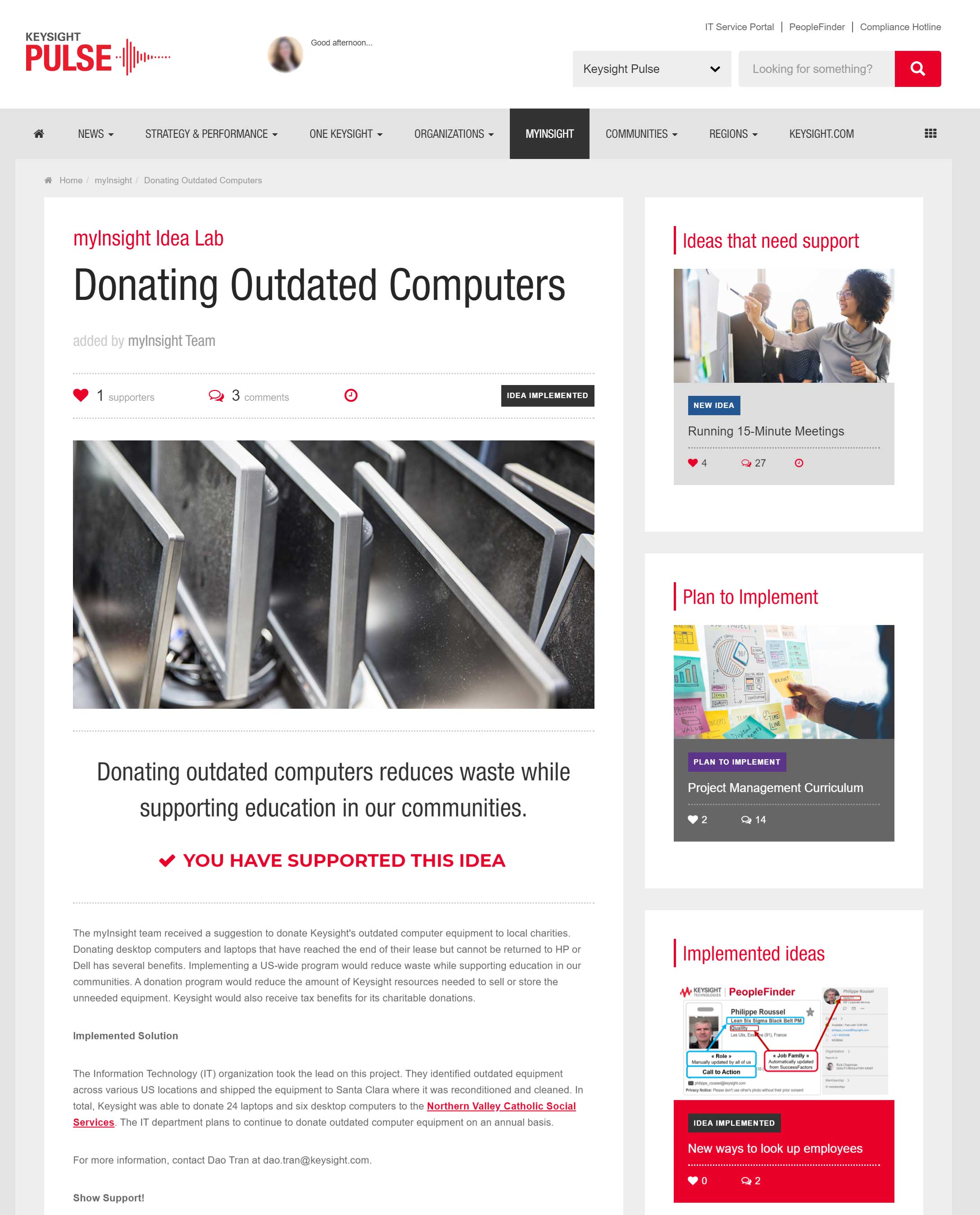 5. Q&A between employees and executives: In the Ask Ron and the Executives area, employees can ask the CEO and other executives questions about company strategy or other decisions. An archive, filterable by topic, stores all previous questions and answers. The design makes the Q&A feel conversational and personal.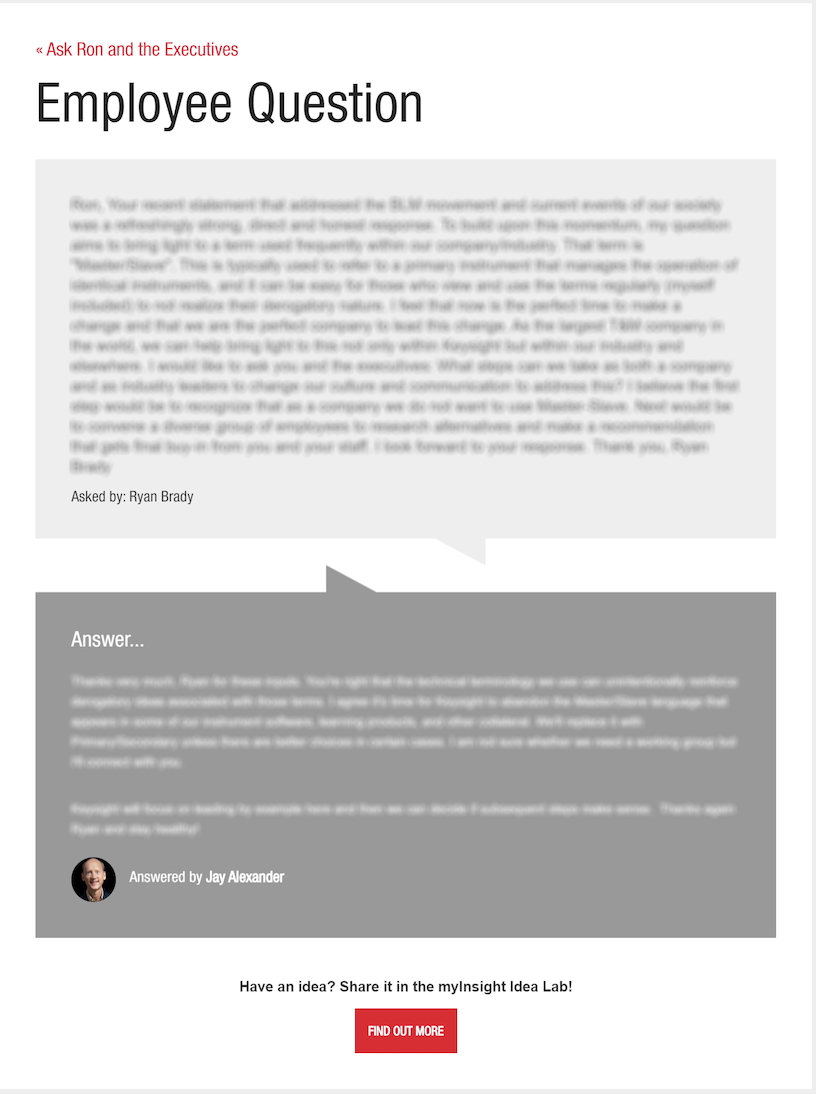 6. Global feedback bar: A feedback bar appears at the bottom of every intranet page. From here, employees can tell the corporate-communications team when they have trouble finding something or if a page is out of date. The team then shares this feedback with the appropriate content managers to address the issues.

7. Quick polls: Polling on the homepage allows employees to share opinions on a variety of topics. Polls use a simple, clean design and update in real time as employees cast their votes.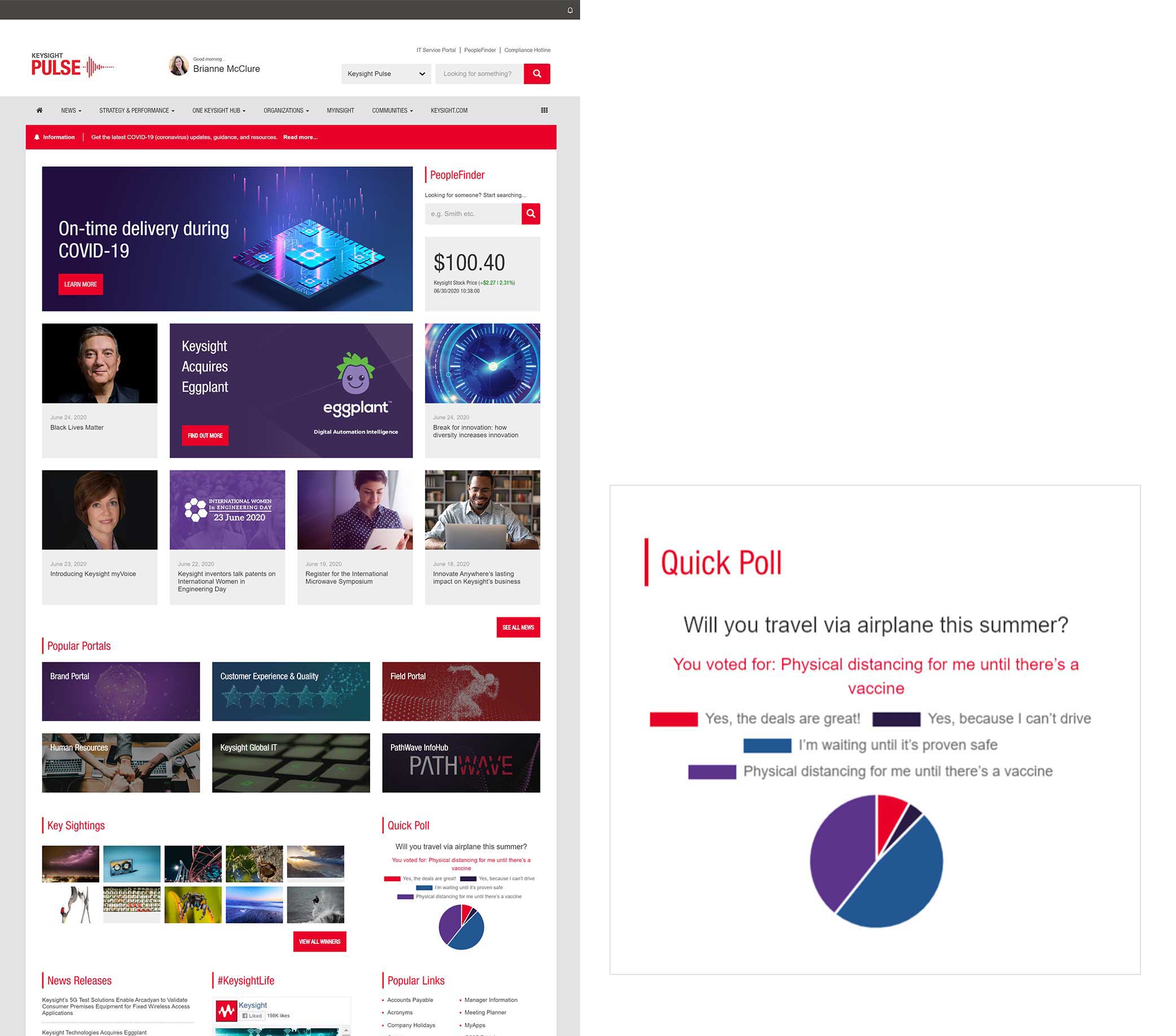 8. Submitting news stories: Keysight follows a distributed content management model, where employees can submit news articles and ideas for future content using a form that's linked from published news articles. Corporate communications works with employees to create the content to ensure it meets editorial standards and determine a publication date.

9. Emailing news authors: Employees can email authors and publishers to ask questions about news stories, offer compliments, or report issues. An envelope icon on each news article initiates contact.

Conclusion
Staff photos and the boss's dog may not seem directly business-related, but team building definitely is. And specifically on an intranet, such human-interest content drives traffic that spills over into other content and features.
Driving employee engagement on an intranet isn't always easy, but through focused tactics and continued encouragement, Keysight Technologies found success and built a stronger, more inclusive culture at the organization.
To explore the full case study and library of screenshots depicting their winning design details, explore our 2021 Intranet Design Annual, available now for purchase.
To hear more from the winners from Keysight Technologies, join us at our new Intranet and Employee Experience Symposium 2-day virtual event.